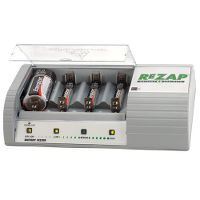 This is a first for Innovation Toronto.
Normally we do not comment directly on the new, the inventive and the innovative.  We are going to change that now by introducing a product that can help to reuse those piles of old, spent alkaline batteries that we all seem to have.  The product is offered by Hammacher Schlemmer, a 161 year old catalog operation out of the United States.
I have dealt with this company a number of times and have always found that their products exceed expectation (which is a pretty good testimony because there is a lot of shoddy stuff out there).  The real kicker is the fact that they stand behind what they sell by offering a genuine lifetime guarantee (if you are 161 years old you may just be ready to turn in that HS buggy whip for a brand new one – on them!
So there are a couple of things going on here of note:
Lifetime warranty from a company in business for 161 years – not an absolute guarantee but a pretty safe bet.
A battery charger that re-animates regular alkaline batteries – up to 10 times.  A great environmental and cost benefit if you use batteries regularly at all
You can even ask your friends to give you all of their old alkalines and not buy any new batteries for a very, very long time 🙂
This is why we recommend that you check out the specification yourself.  Your battery-eating devices and the environment will thank you.  And, by the way, we are not in any way affiliated with the company – just a pleased customer.
Here is the pitch:
This is the battery charger that can revitalize standard alkaline batteries up to 10 times–verified after rigorous testing by the Hammacher Institute–enabling you to re-deploy previously useless alkaline AAAA, AAA, AA, C, N, D, 6- and 9-volt batteries. It can aso re-charge rechargeable alkaline manganese, titanium, NiCd and NiMH batteries. It uses a sophisticated microprocessor and proprietary charging technology to sense battery types and their conditions prior to charging. It can charge up to four batteries at one time, regardless of the type or size. A built-in voltmeter measures the strength of each battery prior to re-charging and displays the increasing voltage level with four LEDs; charging times vary depending upon the type of battery and its current level of charge.
Related articles by Zemanta